Latest Gallery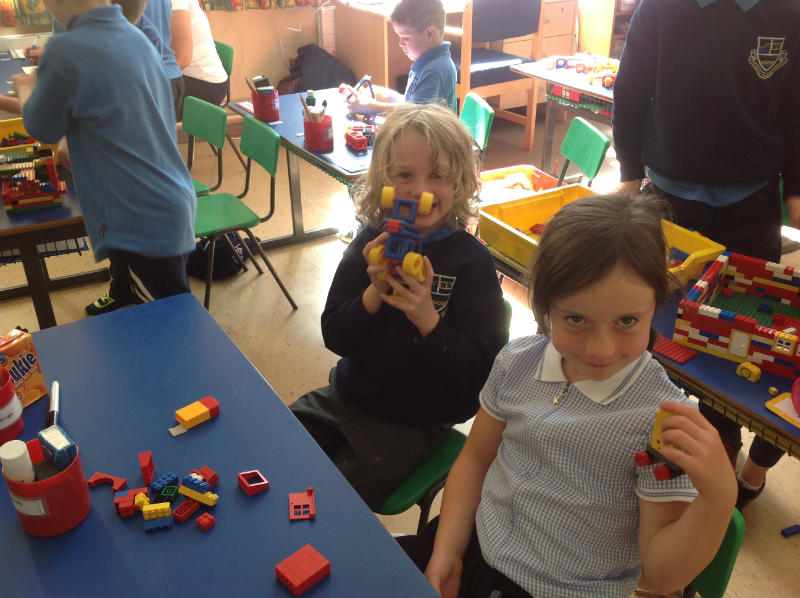 Emily, our stargazing superstar!!
Remote Learning
Now that we are cooped up indoors, remember traditional games can be fun and educational too! Why not get out some Board Games and jigsaws (Scrabble, Monopoly, Pairs, Trivial Pursuit and so on..) reading, interacting, talking and listening games such as Give us a clue, eye spy, Nursery rhymes etc. not forgetting practical games such as throwing and catching, target hitting....
My School is the interface that all children and young people use in Northern Ireland to access online tools and applications. Your child will have a username and password to access the website. Within this pupils will have access to C2K Newsdesk which has daily activities
- Oxford Owl
- Libraries NI App
https://www.librariesni.org.uk/Pages/Libraries-NI-app.aspx
- BBC Bitesize
https://www.bbc.co.uk/bitesize
- Top Marks
- Nursery Rhymes and Songs
https://www.bbc.co.uk/teach/school-radio/nursery-rhymes-songs-index/zhwdgwx
- Busythings Full of great resources for pupils to support learning in all areas. You can avail of a 14 day trial
TTS have created free workbooks for home learning
Primary Resources website
http://www.primaryresources.co.uk/
Useful Apps
Hit the button- Number facts
https://www.topmarks.co.uk/maths-games/hit-the-button
Squeebles
Spelling Shed
https://www.spellingshed.com/en-gb
Transfer Tutor
http://www.thetransfertutor.co.uk/
What is Twinkl?
'Twinkl supports and works with educators across the world, including primary and secondary teachers, childminders, nursery workers, home educators and parents. All Twinkl resources are teacher-made and can be used by anyone, anywhere - making learning accessible to all.'
Key Workers' letter
20th March 2020
Principal Mrs C Thompson
Dear Parents/Guardians,
I do hope this letter finds you well and you are able to face these uncertain times with some sort of positivity. As you are aware school will be closed to pupils for the foreseeable future and I hope that you have been able to pick up the learning packs for your children. Teachers will continue to prepare learning opportunities for all pupils throughout the time that school is closed as well as online resources. Details of further learning will be communicated through the school website/App/PTA Facebook page/Text service.
Despite this we know that there are many parents in our school who are very much on the front line and our very society depends on them being able to get to work. With that mind we will seek to open the school to care for the children of, as described by the First Minister, 'Key workers'. Please find below the definition of key workers;
Key workers are those who are maintaining essential public services during the Covid-19 response.
- Health and Social Care. This includes doctors, nurses, midwives, paramedics, social workers, home carers and staff required to maintain our health and social care sector
- Education and childcare. This includes nursery and teaching staff, social workers and those
specialist education professionals who will remain active during the Covid-19 response
- Public safety and national security. This includes civilians and officers in the police (including key contractors), Fire and Rescue Service, prison service and other national security roles
- Transport. This will include those keeping air, water, road and rail transport modes operating during the Covid-19 response
- Utilities and Communication. This includes staff needed for oil, gas, electricity and water (including sewage) and primary industry supplies, to continue during the Covid-19 response, as well as key staff in telecommunications, post and delivery, services and waste disposal
- Food and other necessary goods. This includes those involved in food production, processing, distribution and sale, as well as those essential to the provision of other key goods (e.g hygiene, medical etc.)
- Other workers essential to delivering key public services
- Key national and local government including those administrative occupations essential to the effective delivery of the Covid-19 response
The aim is to keep the number of pupils coming into schools to a minimum. However, there will need to be some flexibility to ensure our key workers are supported. It is impossible to assess at this stage what the exact demand will be in relation to the number of key worker children who will need to attend school.
Therefore, we will monitor this closely, working with schools and other providers over the course of next week and to help make further decisions around staffing and other requirements moving forward.
Please email the Principal using the email address provided below if you feel you meet the criteria for childcare to enable the school to gauge the demand and ascertain if we can offer a place to your child/children.
cthompson738@c2kni.net
I will be in touch as soon as possible via email to inform you further regarding allocation of places.
Points to bear in mind:
Social distancing measures will be in place as far as is reasonably possible.
The school can only offer this service if there are sufficient members of staff well enough/able to supervise.
A risk assessment will be completed with specific regard to the service.
The provision is about care, not education.
I continue to await clarification from DE and EA Catering service on provision of meals/food.
The provision will be structured to run as a normal school day: 9am – 3pm
This is an extremely fluid situation and I will endeavour to keep you informed as the information is received from DE and EA.
Thank you and take care.
Yours sincerely,
C Thompson
Principal
Upcoming Events...
Saturday, 26th September 2020
First Communion for children in the current Primary 4 class will take place on Saturday 26th September. First confessions will be arranged prior to this, but also in the month of September. MORE DETAILS TO FOLLOW CLOSER TO THE DATES. Please keep an eye
Top Tips for parents
Community Playgroup - new procedures
School Uniform
Uniforms
It is recommended that a fresh school uniform is worn everyday your child is in school. Alternatives will be permitted where it is not always possible to have your child in a clean school uniform every day. Our school suppliers are:
P7 through the years Video
Monday 29th June 2020 - Video Feed
Monday 15th June - Maths Week - Financial Capability 💵💴💶💷
Monday 8th June - Sports Week and P7 STEM
Friday Reading Gallery Part 2 !!😄
Friday Reading Gallery of Fame!
Reading Week (1st June - 5th June)
Monday 25th May 2020 - storytime
Mental Health and Well Being Week (18th - 22nd May)
VIDEO Feed
o 1eb7290h9kj615a8r9o10u81j4cg
o 1easr92vk1qtf1pvk1q9g1uv157kc
Notices from EA and the Department of Education
EA Educational Resources & Newsletters
https://www.eani.org.uk/educational-resources-newsletters
As a parent you probably never thought you would be teaching your children at home. Remote learning can feel a bit scary but it can be an opportunity to be creative and have fun with your children so that being at home isn't boring for them and stressful for you.

It is important to have a routine every day. Work out a schedule together, either in writing like a timetable or with pictures like a visual timetable, that way everyone knows what's going to happen daily.

Incorporate core learning times for literacy and numeracy (keep it short and sweet 20-30min blocks should work, we don't want them to get bored!), add in break and lunchtimes, add the fun activities to do together and the times to work or play independently. Don't forget this is home and not school so the timing for learning is up to you!

Also if you have received work from school, use these resources and do them at the same time each day at a time when your child learns best. If you run out of resources or learning materials, you could contact your school for more.

If you have access to the internet there are vast libraries of resources online and most of them are free to use. There are some websites that you may find useful.
Education Resources also available in more Languages
https://www.eani.org.uk/education-resources-in-more-languages
DE: Online resources which may assist families and pupils during Covid-19
The Department has collated a range of online resources which are intended to be helpful to families and pupils during the Covid-19 situation.
· www.education-ni.gov.uk/articles/support-parents-and-pupils
____________
EA Music Support for schools, young musicians and parents
While online lessons are not something we can provide at this time, our tutors are available to provide advice and guidance to schools and parents/guardians in relation to home practice, use of resources and weekly challenges for our young musicians. If you would like to contact your child's tutor or have any other queries relating to your child's tuition, please contact the relevant address below:
Resources
As well as receiving advice and resources directly from your child's tutor, there are a number of online resources that the Music Service would recommend for making music at home.
________________________________
High Five
Issue 1 - Primary Behaviour Support & Provisions Newsletter – High Five
Issue 2 - Primary Behaviour Support & Provisions Newsletter – High Five
These are resource packs for families in relation to staying safe physically but also emotionally and mentally at this time using the Health and Social Care Take 5 framework. The newsletter is packed with lots of suggestions linked to the five steps of wellbeing – Give, Be Active, Connect, Keep Learning, Take Notice. We would love to hear your feedback, if you want to share pictures of activities completed from the newsletter or make suggestions please email us at: primarybsp.enquiries@eani.org.uk
--------------------------------------------
Languages
Valuable education resources in 11 different languages, can now be accessed at
https://www.eani.org.uk/education-resources-in-more-languages
These include health and education materials, websites and Apps for children of families who do not have English as their home language.
--------------------------------------------
Eat Well, Live Well
EA have launched the 'Eat Well, Live Well' programme targeting young people aged 4 - 25 years who need access to a 5-a-day food box providing breakfast and lunch as part of a safety net to the provision of Free School Meals during Covid-19. The link below also provides advice to families who are not in receipt of Free School Meals.
Pre-school and P1 Admissions September 2020
Parents who have today received letters regarding September's Pre-school/P1 Placement
Please ensure that you communicate your acceptance or nonacceptance of the offer of a place by emailing Mrs Thompson cthompson738@c2kni.net and where not accepting the offer, to copy your email to the EA's Admissions Office whether Pre-school/Primary Admissions.
Thank you.
Middletown Centre For Autism
I am delighted to launch the next series of Middletown Centre for Autism's webinars. Many of the topics covered in these sessions have been suggested by those of you who have been following our previous sessions. The feedback has been excellent and the Centre staff greatly appreciate the positive feedback that has been received. I trust that you will continue to make use of the next series of webinars and pass the details on to those who may be interested. I trust that you are all keeping well in these challenging times and that you and your family will remain safe.

Kind regards
Gary Cooper CEO
Middletown Centre Webinar Series May 2020

In order to provide support during the suspension of our face to face delivery Middletown is offering a series of twice weekly live webinars. These sessions will feature members of our own multi-disciplinary team and international speakers on a series of themes.

Please click on the link beside each name to read more about the session and register to attend a live session.

Stephen Shore -
Being Autistic in a Time of Uncertainty
Tuesday 5th May 2020 - 19:00

Adam Harris
What Works for Me
Thursday 7th May 2020 - 19:00

Frances O'Neill
Visual Supports for Anxiety Management
Tuesday 12th May 2020 - 19:00

Kari Dunn Buron
5-Point Scale
Thursday 14th May 2020 - 19:00

Tara Vernon
Promoting Sleep
Thursday 19th May 2020 - 19:00

Jed Baker
Managing Meltdowns
Tuesday 21st May 2020 - 19:00

Tony Attwood
Stress and Coping
Thursday 28th May 2020 - 10:00am **Live Only Session**

The live sessions will host a maximum of 500 delegates live and most sessions will be posted on social media the following day. Sessions marked 'live only' will not. Please consider the maximum number of places available when booking your place.
Term 3
Dear Parents and Pupils,
Welcome to Term 3.
I trust you have all enjoyed the beautiful Easter weather and have made the best of the great outdoors where possible.
We begin this new Term under conditions which we all find extremely strange and challenging but we must continue to prioritise the Health and Safety of everyone. Thank you for your efforts in keeping safe by staying at home.
Thank you for your engagement in the Home Learning experience and resources. School staff are working to ensure they are providing tools and resources which you can access and use from home. Please continue to maintain contact with us through the following methods;
School website
Home Learning Tab. Here you can access resources for each class as well as leave any comments you wish to communicate to the class teacher.
School website App. (Please download as this is a free messaging service)
Email class teacher/Principal
School will send out priority text messages
PTA Facebook page
Google Classroom (some classes)
We have thoroughly enjoying receiving your photos and emails detailing how the children are getting on during this time. Please continue to communicate with us and indicate if you consent for your photo/s to be shared on the website and the Facebook page.
Mrs. Clarke returns to work this week and her email address will be provided in the home learning section of the website.
On the same note, we have a few packs of Home Learning resources which were not collected on the 20th March 2020. I ask that if you did not collect your pack, that you make contact with me in order to organise collection. It is important that the children continue to engage with learning and have a daily routine involving structured activities. Can I also encourage you to make contact with your child's teacher, if you have not already done so, by sending photos of completed work or a simple paragraph as to how they are getting on. If there is any reason why your child is unable to engage in the remote learning set by their class teacher, please get in contact and let me know why. Thank you.
Sadly, the following events would normally have taken place during Term 3 but at present we are unable to provide any clarity on what can take place and when until restrictions are lifted;
PTA Sponsored Walk
Summer testing
P4 Holy Communion
P7 School Trip to Scotland
Walk to School Week
Annual Rotary Primary School Choir Competition
Sports Day @ 10 am
Summer Fair @ 6.30 pm
Induction Day for new Nursery intake
Induction Day for new P1 intake
Health and Well-Being Week
Father's Day Breakfast
Formula 1 Goblins at Ulster University Jordanstown Campus
P7 Pupils and Parents Leavers' Dinner
Prize Day
This letter and more important information will be sent to you via the Home Learning Tab of this website later today. It is very important that you read it in its entirety.
Please do not hesitate to get in touch if there is any way we can be of further support to you and your family at this time.
Stay Home, Stay Safe and Take Care.
Yours faithfully,
Cherith Thompson
Principal
cthompson738@c2kni.net
PTA
PTA 2018/2019
Our school's 'Calendar of Events,' demonstrates that the school has had another extremely active year and the PTA were very supportive as always. Amongst the events last year were two discos for the children (Hallowe'en and Valentine's), Fire Quiz, Table Quiz at Cafe Fresco, A summer Treasure Hunt and the annual Summer Fair. Thanks to all the parents who supported the school's events and contributed to the PTA subscription.
Family Support NI
Family Support NI has a launched a new and improved website:
This service provides information on all types of family support services including all registered childcare throughout Northern Ireland.
AQE & GL updates
Key Dates 2020/21
Assessment Dates
Saturday 21st Nov 2020: AQE (CEA) 1st Paper.
Saturday 28th Nov 2020: AQE (CEA) 2nd Paper.
Saturday 5th Dec 2020: GL Assessment.
Saturday 12th Dec 2020: AQE (CEA) 3rd Paper.
Saturday 19th Dec 2020: GL Supplementary Entrance Assessment.
Registration Opens
Thursday 14th May 2020: AQE (CEA) registration opens.
Monday 1st June 2020: PPTC (GL Assessment) registration opens.
Registration Closes
Friday 25th September 2020: AQE (CEA) registration closes (4pm).
Friday 9th October 2020: PPTC (GL Assessment) registration closes (2pm).
Results
Saturday 30th January 2021: AQE (CEA) results arrive at children's homes.
Saturday 30th January 2021: PPTC (GL Assessment) results arrive at children's homes.
Applying to post-primary schools
Late Jan/Early Feb 2021: Primary principals will hold meetings with parents and complete
Transfer Forms for post-primary education. Transfer Forms will be sent to the Education Authority.
School Allocation
May 2021 - Parents are informed by the Education Authority which school that their child has been allocated to.
ECO SCHOOLS' GREEN FLAG AWARD
Green Flag Award
I am delighted to announce that Miss Allen, the Eco committee and the entire school have been successful in renewing our Eco-Schools Green Flag on 28/04/2020. Francesca Di Palo was very impressed with our school's work.
Congratulations to all concerned - staff and pupils alike, and not forgetting our caretakers and
many parents who helped our school achieve its environmental targets.
We will hold the flag for two years.
CONGRATULATIONS EVERYONE!!
(ECO committee, if possible can you email Mrs Thompson a photo of you with a message on a piece of paper expressing this great news as Eco schools would like to make a picture collage to congratulate you all. Parents, can you please state that you give permission for ECO schools to share this photo on their website and social media)
Thanks so much!
Nursery and P1 Admissions
Dear Parents and Guardians,
Update from EA as of 22nd April 2020
Pre-school and Primary 1 Admissions
The Education Authority will be issuing letters to parents / guardians on behalf of schools / playgroups to advise on the outcome of their child's pre-school / primary one application. Letters for receipt on Wednesday 29 April 2020.
Due to any potential delays in the postal network we will also be opening our Citizen Portal which will be accessible via our website on Wednesday 29 April. Parents / guardians who had applied online in January 2020 can log in and obtain information relating to their child's pre-school / primary one application.
Welcome
Thank you for visiting our school and Nursery website. We hope you enjoy seeing just a snippet of what goes on in our school from day to day.
In Strabane Primary School and Nursery we provide a broad and balanced curriculum for all our pupils. In every classroom the pupils are provisioned with a wide range of learning opportunities, both indoors and outdoors, enabling every individual to stretch to their full potential and experience success. The staff and Governors take pride in high quality teaching and learning and the high expectations for staff and pupils throughout our school and Nursery.
Our aim is to equip the children with the skills, knowledge and values to enable them to become happy, contributing members of our community.
We have an extremely active PTA whom, along with our supportive parents, successfully organise an array of events and fundraisers each year and throughout the year from Hallowe'en discos to summer fetes!
The school has a warm, caring and friendly ethos and this in turn contributes to the nurturing environment you will experience within the school and Nursery.
Every child – Safe, Secure and Successful.
C Thompson
Principal
New School Enhancement Project announced for Strabane Primary School!
On Tuesday 14th January 2020 the Education Minister Peter Weir announced in Stormont that 18 schools will now advance in planning under the second call to the School Enhancement Programme (SEP). We at Strabane Controlled PS are delighted to receive this news and have been pushing for a number of years to get works done at our school.
The 18 schools will benefit from an estimated capital investment of £45 million.
Our school will benefit from the financial injection of money into the heart of education. Schools are on the frontline of education and have endeavoured to persevere under extremely challenging circumstances. We are already discussing our priorities and at the planning table considering where the money can be used to continue to prioritise the learning experiences and educational opportunities for every child.
Our school is oversubscribed and we have been seeking the progression of a number of minor works applications over the years. We are now ecstatic to be able to consider the finished product with refurbished classrooms and corridors and facilities fit for purpose. It was such a great feeling to be able to tell our pupils, staff, governors and wider community about the announcement and look forward to the final product.
We have been informed that Design work will begin immediately with construction work expected to start in 2022/23.
PANTOMIME - Dick Whittington
Dick Whittington
Thanks to everyone to attended our matinee and 2 evening performances of our panto for 2019!
We had 2 sell-out evening shows and a well attended matinee.
It was astounding to watch a show come together in such a short period of time. There were a lot of lines learned, painting, sewing, glittering, costumes, staple guns etc.! The pantomime celebrates all talents of our pupils and the Arts!
Huge thanks to everyone who has contributed in any way towards the shows – staff, pupils, parents & the PTA with a special word of thanks to Mrs Fallows and Mrs McConnell and to Helena for the Art work displayed around the hall.
Strabane Controlled Primary School,
43 Derry Rd, Strabane,
Co Tyrone BT82 8DX
Phone: 028 7138 2510